EFFECT OF CURRENT RATIO AND DEBT TO EQUITY RATIO TO RETURN ON ASSETS ON FOOD AND BEVERAGE COMPANY REGISTERED IN INDONESIA STOCK EXCHANGE
Hormaingat Damanik

Universitas Darma Agung
Abstract
In carrying out company operations, there needs to be a profit so that the company continues to run well, even though its operational funding comes from assets and debt. Therefore it is necessary to measure the company's financial performance so that investors can make decisions to provide funds to the target company. From this background, several variables can be taken that will be used as a study whether the Current Ratio (X1), Debt to Equity Ratio (X2) affects ROA (Y) or not. The sample of this study were 14 companies from food and beverage companies listed on the IDX and met the specified criteria. Multiple Linear Regression test results Y = -2,353-0,447X1-0,520X2. From this equation, CR and DER have no effect on ROA. The t test results obtained partially that CR has no effect on ROA because the significance value is 0.071> 0.05 and t count <t table (-1.857 <2.02269), while DER has an effect on ROA because the significance value is 0.03 <0.05. and t count> t table (-2.248 <2.02269). The results of the F test obtained F count <F table (2.528 <3.24) meaning that simultaneously CR and DER have no effect on ROA. The R Square test results were obtained as 11.50 % which means that CR and DER have a weak relationship with ROA.For further researchers, researchers suggest adding to the research independent variables, the ratio of years of observation and also increasing the number of research samples so that the research results will be better so that it shows a clearer picture of the effect of the independent variable on the dependent variable.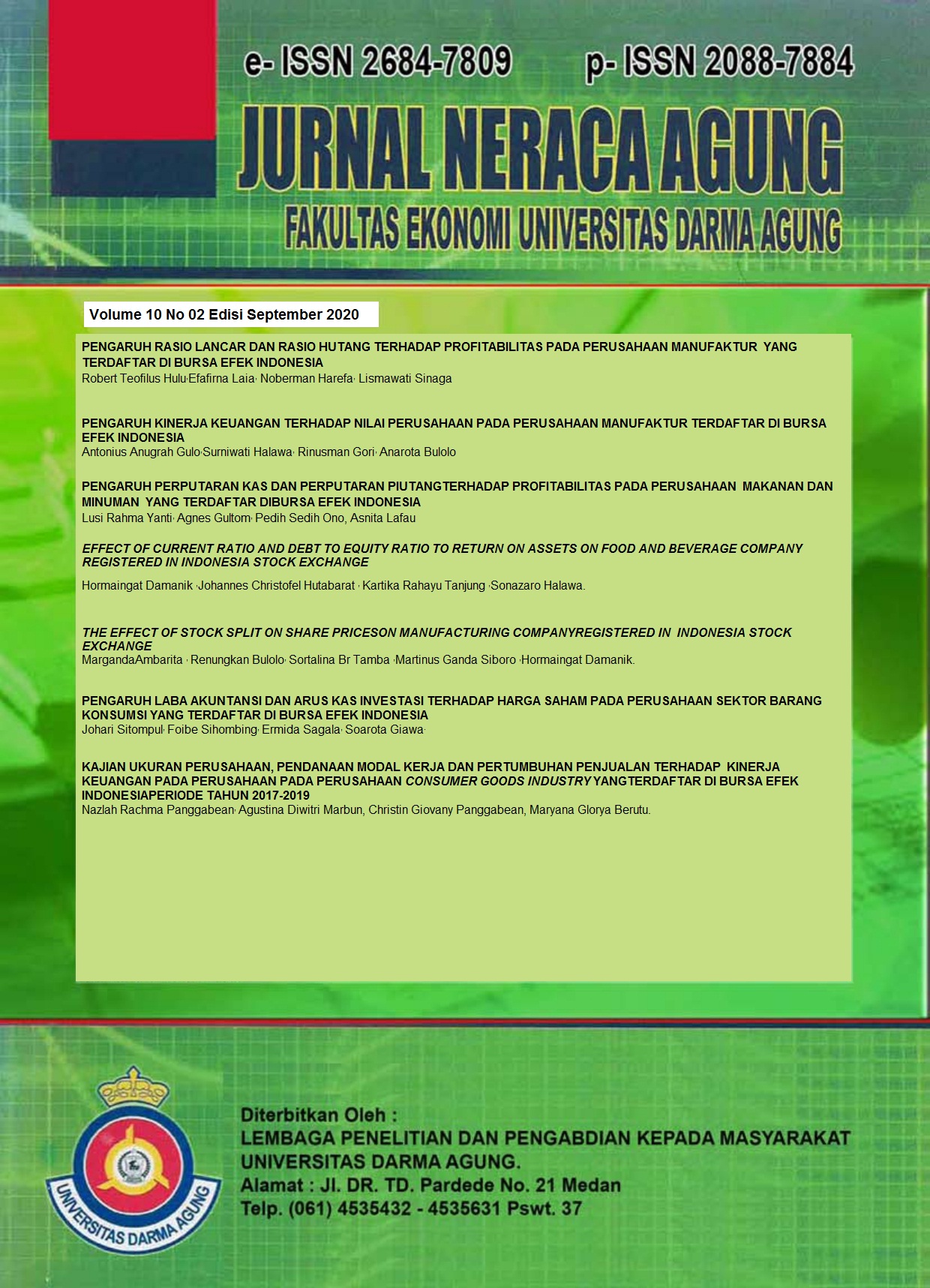 How to Cite
DAMANIK, Hormaingat. EFFECT OF CURRENT RATIO AND DEBT TO EQUITY RATIO TO RETURN ON ASSETS ON FOOD AND BEVERAGE COMPANY REGISTERED IN INDONESIA STOCK EXCHANGE.
JURNAL NERACA AGUNG
, [S.l.], v. 10, n. 2, p. 31-46, june 2021. ISSN 2088-7884. Available at: <
http://jurnal.darmaagung.ac.id/index.php/neraca/article/view/1000
>. Date accessed: 21 jan. 2022.