PENGARUH LINGKUNGAN KERJA FISIK DAN DISIPLIN KERJA TERADAP KEPUASAN KERJA KARYAWAN PADA PT. PERKEBUNAN NUSANTARA IV MEDAN
Dewi Pratiwi

Universitas Prima Indonesia

Latifah Hayani

Universitas Prima Indonesia

Yuti Prasetyo

Universitas Prima Indonesia

Angga Josua Lumban Tobing

Universitas Prima Indonesia
Abstract
This research aims to find out the effect of the physical work environment and work discipline on employees' job satisfaction in PT Perkebunan Nusantara IV Medan. This research was conducted with the total population is 499 people and samples taken are as many as 83 people. The samples were taken by simple random sumpling withslovin formula. Data collection techniques in this research is by way of questionnaires, interviews and documentation. Data were analyzed by using multiple linear regression analysis model. Simultaneously research results show physical work environment and work discipline have significant and positive effect on employee job satisfaction (33 358> 4.88) with a significant level (0.000 <0:01). Partially discipline positively and significantly affectthe job satisfaction value of t> t table (2,425> 2,373) and a significant value (0.018> 0:01). Partially communicationhas positive and significant effect on employee performance value t> t table (4.475> 2.373) and the significant value 0.000 <0.01, respectively.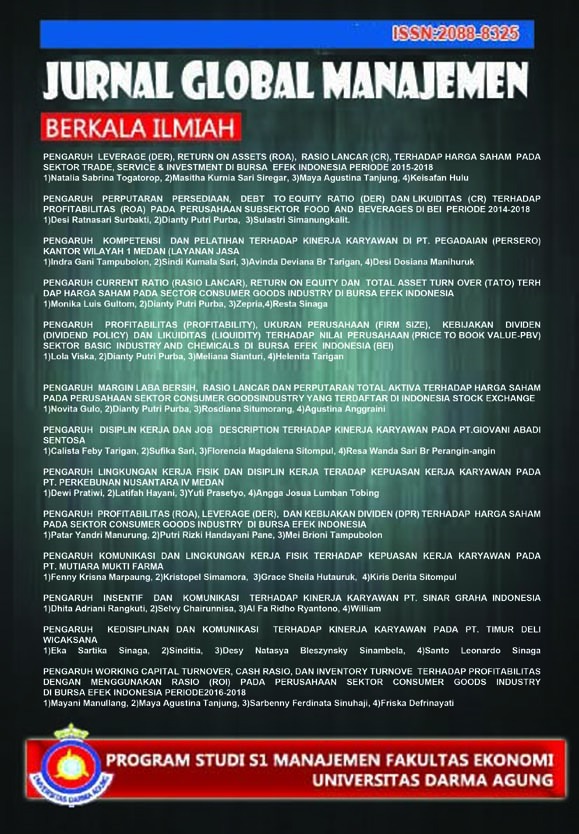 How to Cite
PRATIWI, Dewi et al. PENGARUH LINGKUNGAN KERJA FISIK DAN DISIPLIN KERJA TERADAP KEPUASAN KERJA KARYAWAN PADA PT. PERKEBUNAN NUSANTARA IV MEDAN.
JURNAL GLOBAL MANAJEMEN
, [S.l.], v. 8, n. 1, p. 79-85, may 2019. ISSN 2715-6001. Available at: <
https://jurnal.darmaagung.ac.id/index.php/global/article/view/199
>. Date accessed: 10 aug. 2020.