PENGARUH PROFITABILITAS (PROFITABILITY), UKURAN PERUSAHAAN (FIRM SIZE), KEBIJAKAN DIVIDEN (DIVIDEND POLICY) DAN LIKUIDITAS (LIQUIDITY) TERHADAP NILAI PERUSAHAAN (PRICE TO BOOK VALUE-PBV) SEKTOR BASIC INDUSTRY AND CHEMICALS DI BURSA EFEK INDONESIA (BEI)
Lola Viska

Universitas Prima Indonesia

Dianty Putri Purba

Universitas Prima Indonesia

Meliana Sianturi

Universitas Prima Indonesia

Helenita Tarigan

Universitas Prima Indonesia
Abstract
Nowadays Indonesia Stock Exchange becomes the choice for investors in doing investment because it is considered to be able to give quite much profit. This research aimed at testing and analyzing whether each variable analyzed which were Profitability, Firm Size, Dividend Policy, and Liquidity had effect on the Company Value simultaneously and partially. This research was done at sixty three (63) companies in Basic Industry and Chemicals sector which were listed at Indonesia Stock Exchange in 2014-2018 period. Sampling technique applied in this research was purposive sampling. The result of the purposive sampling was that there were twelve (12) companies that met the criteria. This research applied Double Linear Regression analysis with F test and T test with significant level of 0.05. The result of the study showed that hypothesis testing showed that the variables of Profitability, Firm Size, Dividend Policy, and Liquidity simultaneously had effect on Company Value. Partially, the variables of Profitability and Firm Size had significant positive effect, meanwhile Dividend Policy and Liquidity had no effect of Company Value.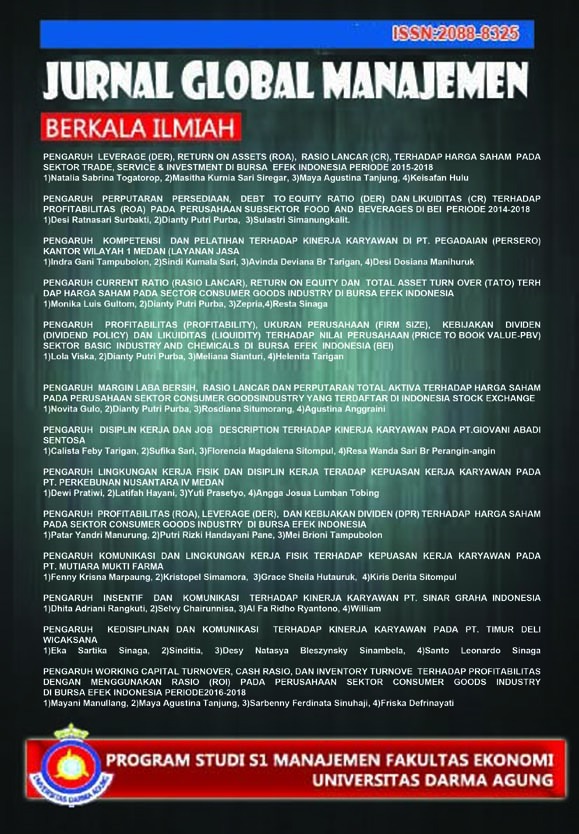 How to Cite
VISKA, Lola et al. PENGARUH PROFITABILITAS (PROFITABILITY), UKURAN PERUSAHAAN (FIRM SIZE), KEBIJAKAN DIVIDEN (DIVIDEND POLICY) DAN LIKUIDITAS (LIQUIDITY) TERHADAP NILAI PERUSAHAAN (PRICE TO BOOK VALUE-PBV) SEKTOR BASIC INDUSTRY AND CHEMICALS DI BURSA EFEK INDONESIA (BEI).
JURNAL GLOBAL MANAJEMEN
, [S.l.], v. 8, n. 1, p. 45-56, may 2019. ISSN 2715-6001. Available at: <
https://jurnal.darmaagung.ac.id/index.php/global/article/view/196
>. Date accessed: 13 july 2020.