STUDI PENGARUH KONTAMINASI POLUSI UDARA PADA ISOLATOR TEGANGAN MENENGAH 20 KV PADA PT PLN (Persero) UNIT PELAKSANA PELAYANAN PELANGGAN (UP3) MEDAN
Jumari Jumari

Universitas Darma Agung

Joslen Sinaga

Sudirman Zega
Abstract
The insulator basically has a resistance to the conductivity of its type resistors. Insulation that is installed outside will decrease its resistance due to the influence of air pollution such as dust, smoke and sea salt and wet dry which attaches to the surface of the insulator and forms a layer of contaminants which results in the emergence of dry tape on the surface of the Isolator. So that when there is a high voltage pressure it will cause a leakage current and arcs on the surface of the Isolator. To determine the level of Isolator Isolation for each area is different, depending on the level of air pollution around the Isolator. It can be said that the higher the level of pollution around the insulator, the higher the insulator's contamination layer. The failure of the contamination fire starts from the mechanism of collecting contaminants continues to the wetting process which makes the contaminant layer conductive and then there are partial sparks which eventually develop a fire jump across the entire surface of the Isolator. As in the research conducted by PT PLN (Persero) Medan Customer Service Implementation Unit (UP3) in a laboratory to measure the amount of leakage current on the insulator surface with a total number of pollutants of 396.8 mgr (type of pollutants in Chapter 3) then the leakage current obtained in the test amounted to <8.6112 m A and> 14.40288 m A. This shows that the greater the Pollutants attached to the surface of the Isolator, the greater the leakage current, conversely the less the amount of pollutants on the surface of the Isolator, the smaller the leakage current level.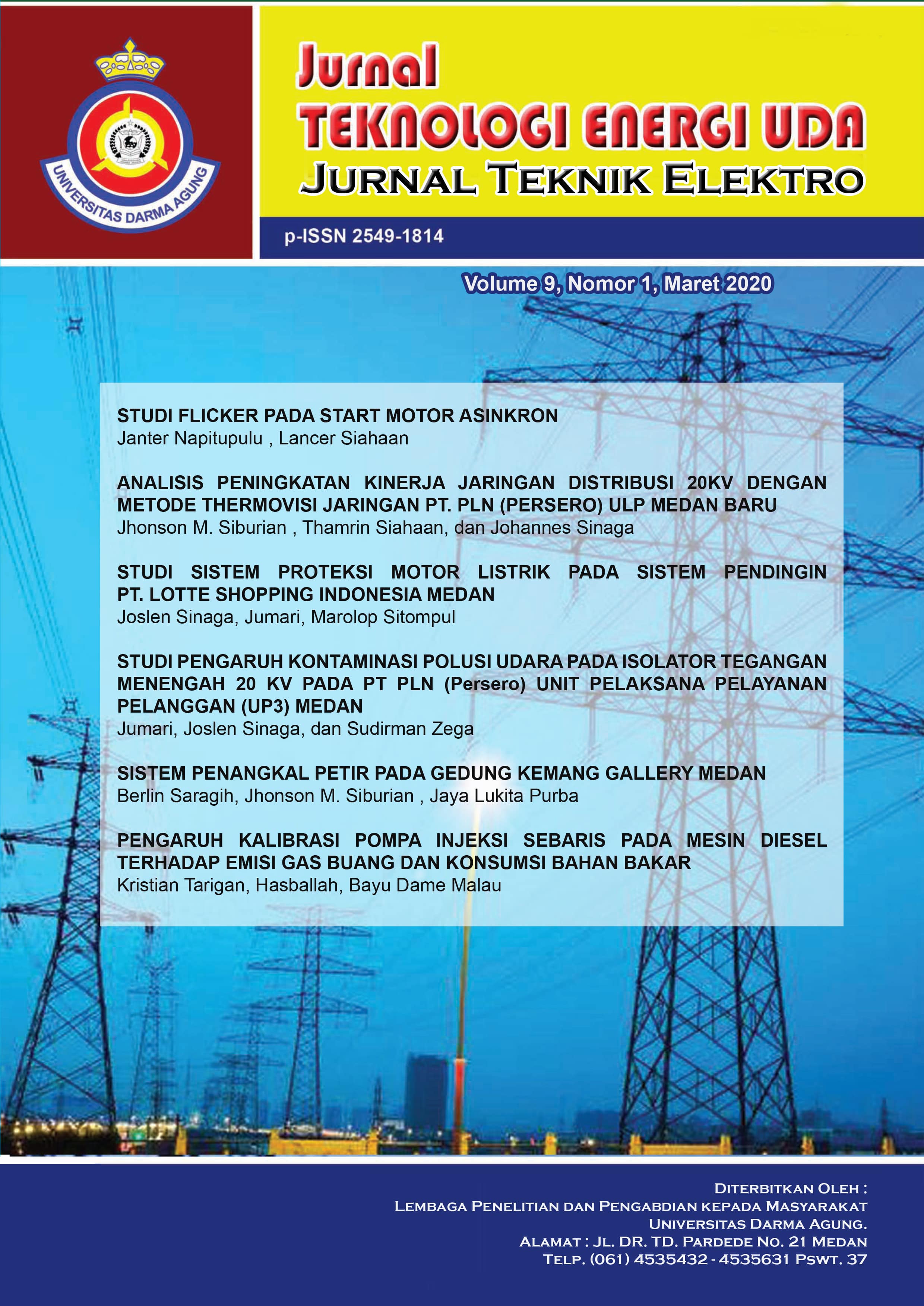 How to Cite
JUMARI, Jumari; SINAGA, Joslen; ZEGA, Sudirman. STUDI PENGARUH KONTAMINASI POLUSI UDARA PADA ISOLATOR TEGANGAN MENENGAH 20 KV PADA PT PLN (Persero) UNIT PELAKSANA PELAYANAN PELANGGAN (UP3) MEDAN.
JURNAL TEKNOLOGI ENERGI UDA: JURNAL TEKNIK ELEKTRO
, [S.l.], v. 9, n. 1, p. 31-43, july 2020. ISSN 2720-9784. Available at: <
https://jurnal.darmaagung.ac.id/index.php/teknologienergi/article/view/621
>. Date accessed: 15 may 2021.