PENGARUH PELATIHAN DAN KOMUNIKASI TERHADAP KINERJA KARYAWAN PADA PERUSAHAAN DAERAH AIR MINUM TIRTANADI MEDAN
Wolpram Hutagaol

Universitas Prima Indonesia

Manahati Gulo

Universitas Prima Indonesia

Dhivo Obetnego Bright Siahaan

Universitas Prima Indonesia
Abstract
Employee performance is the employees' level of success in carrying out their duties. Factors that influence employee performance are training and communication. Training is a process of improving employee work skills to help achieve company goals. Communication is the delivery or exchange of information from the sender to the recipient, both verbally, in writing and using communication tools. PDAM Tirtanadi Medan is a water supply company specialized in the area of ​​Medan and its surroundings. The research method applied was quantitative approach. The type of research was quantitative descriptive. Data collection was done by interviews, questionnaires and documentation studies. Analysis of the data used multiple linear regression. The population was all employees of 68 people. Determination of samples in the study using saturated samples, and to test the validity 30 respondents were taken from other branch companies. The results showed that training and communication simultaneously and partially had a positive and significant effect on employee performance with a determinant coefficient of 0.812 or 81.2%, while the remaining 18.8% was influenced by other factors. The conclusion of the study was that simultaneously and partially training and communication had significant effect on the performance of employees at PDAM Tirtanadi Medan.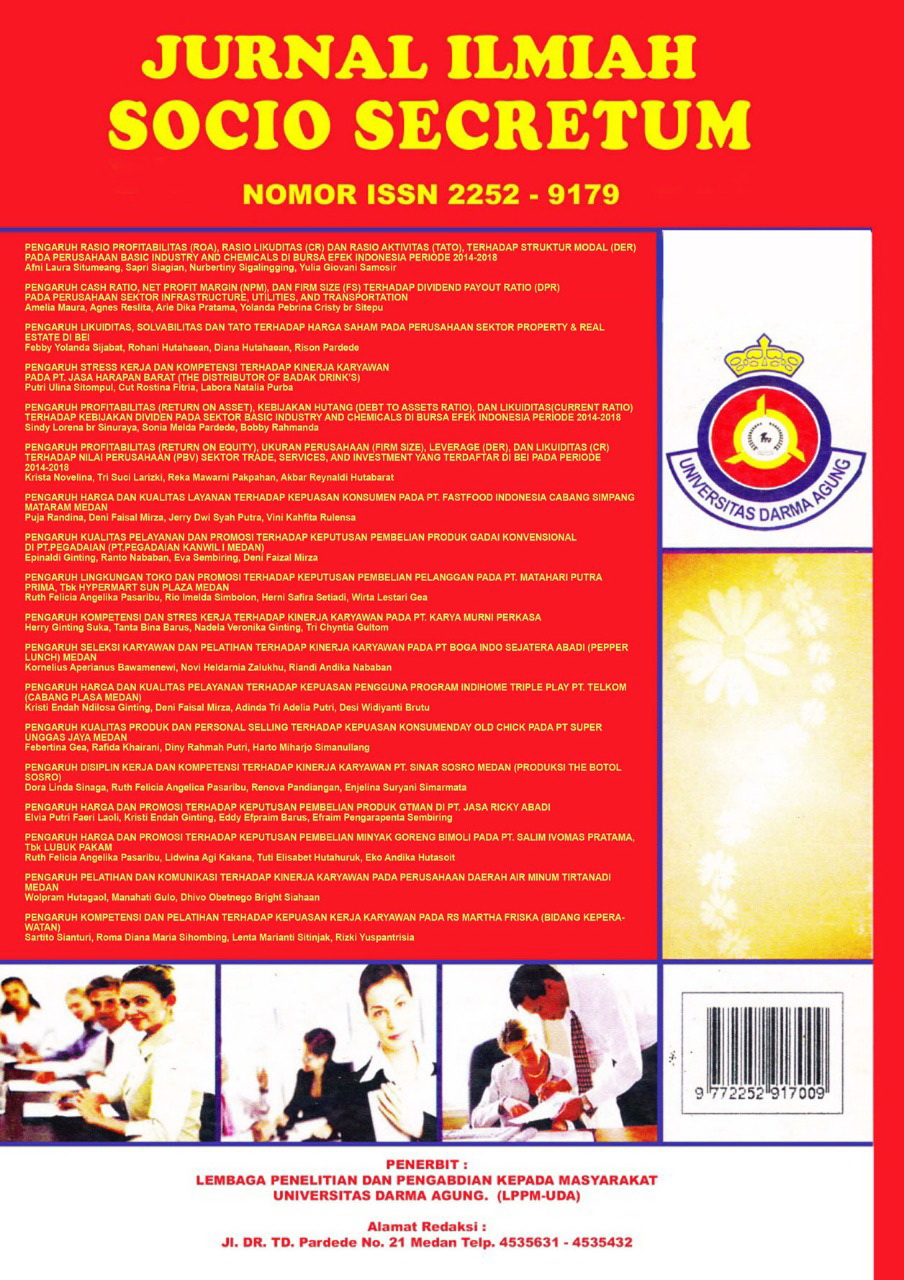 How to Cite
HUTAGAOL, Wolpram; GULO, Manahati; SIAHAAN, Dhivo Obetnego Bright. PENGARUH PELATIHAN DAN KOMUNIKASI TERHADAP KINERJA KARYAWAN PADA PERUSAHAAN DAERAH AIR MINUM TIRTANADI MEDAN.
JURNAL ILMIAH SOCIO SECRETUM
, [S.l.], v. 9, n. 1, p. 195 – 202, june 2019. ISSN 2720-9830. Available at: <
https://jurnal.darmaagung.ac.id/index.php/socio/article/view/221
>. Date accessed: 15 aug. 2020.