PENGARUH HARGA DAN KUALITAS LAYANAN TERHADAP KEPUASAN KONSUMEN PADA PT. FASTFOOD INDONESIA CABANG SIMPANG MATARAM MEDAN
Puja Randina

Universitas Prima Indonesia

Deni Faisal Mirza

Universitas Prima Indonesia

Jerry Dwi Syah Putra

Universitas Prima Indonesia

Vini Kahfita Rulensa

Universitas Prima Indonesia
Abstract
This study aimed at studying and analyzing the price and quality of service to customer satisfaction at PT. Indonesian Fast Food Medan. The phenomena at PT. Indonesian Fast Food Medan were the product prices fixed was more expensive compared to its competitors, the quality of the company's services was not good and could not satisfy consumers. The research method used was quantitative. The type of research was quantitative descriptive and the nature of this research was descriptive explanatory. The method of data collection was done by interviews and questionnaires. The analytical method used was multiple linear regression analysis. The population in this study were consumers who bought products at PT. Indonesian Fast Food Medan from January to December 2018. The sampling technique in this study used simple random sampling, so the sample was taken using one hundred (100) people. The results of the study showed that the price and quality of service were significant for consumer satisfaction at PT. Fastfood Indonesia Medan. From the results of the analysis of the factors that influenced customer satisfaction, it could be seen that between the two variables analyzed, the most dominant influence on customer satisfaction was the quality of service variable. This was proved by the results of the calculation of each variable (t test) in which the t test was t test on service quality variables. The conclusions in this study were the service quality variable rejected H0 and accepted H1. Thus, partially showed that prices and service quality were satisfyingly ans significantly positive to customer satisfaction of PT. Indonesian Fast Food Medan. Simultaneously the price variable and service quality variable were satisfyingly and significantly positive to the customer satisfaction of PT. Indonesian Fast Food Medan.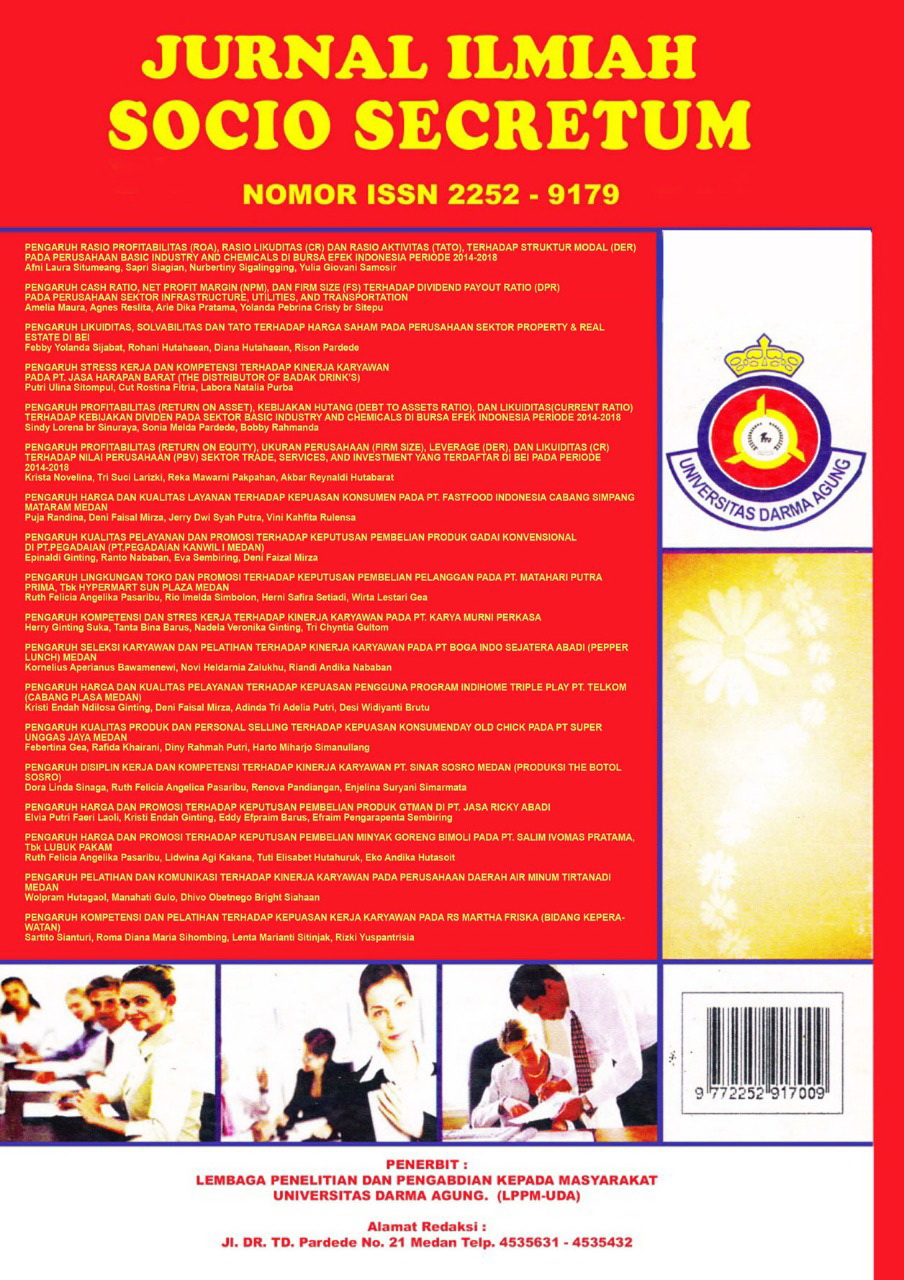 How to Cite
RANDINA, Puja et al. PENGARUH HARGA DAN KUALITAS LAYANAN TERHADAP KEPUASAN KONSUMEN PADA PT. FASTFOOD INDONESIA CABANG SIMPANG MATARAM MEDAN.
JURNAL ILMIAH SOCIO SECRETUM
, [S.l.], v. 9, n. 1, p. 76 - 93, june 2019. ISSN 2720-9830. Available at: <
https://jurnal.darmaagung.ac.id/index.php/socio/article/view/211
>. Date accessed: 18 sep. 2021.