PENGARUH PROFITABILITAS (RETURN ON ASSET), KEBIJAKAN HUTANG (DEBT TO ASSETS RATIO), DAN LIKUIDITAS(CURRENT RATIO) TERHADAP KEBIJAKAN DIVIDEN PADA SEKTOR BASIC INDUSTRY AND CHEMICALS DI BURSA EFEK INDONESIA PERIODE 2014-2018
Sindy Lorena br Sinuraya

Universitas Prima Indonesia

Sonia Melda Pardede

Universitas Prima Indonesia

Bobby Rahmanda

Universitas Prima Indonesia
Abstract
This research aimed at testing and analyzing the effect of profitability, debt ratio, liquidity on dividend payout ratio in Basic Industry Chemicals companies listed in Indonesia Stock Exchange in the 2014-2018 period. The method used in this research was quantitative method. The type of this research was descriptive quantitative and the nature of the research was explanatory. The population of this research were sixty (60) Basic Industry Chemicals companies with sampling technique of purpose sampling which obtained twelve (12) Basic Industry Chemicals companies which met the requirements. Data in this research were secondary data and the method of hypothesis testing applied was double linier regression which obtained the equity of DPR = -2,831+ -0,340ROA + -1,272DAR + -0,924CR + e. The result of the research showed profitability and liquidity has no effect on dividend payout ratio, meanwhile debt ratio had significant effect on dividend payout ratio. Simultaneously and insignificantly profitability, debt ratio and liquidity had no effect on dividend payout ratio.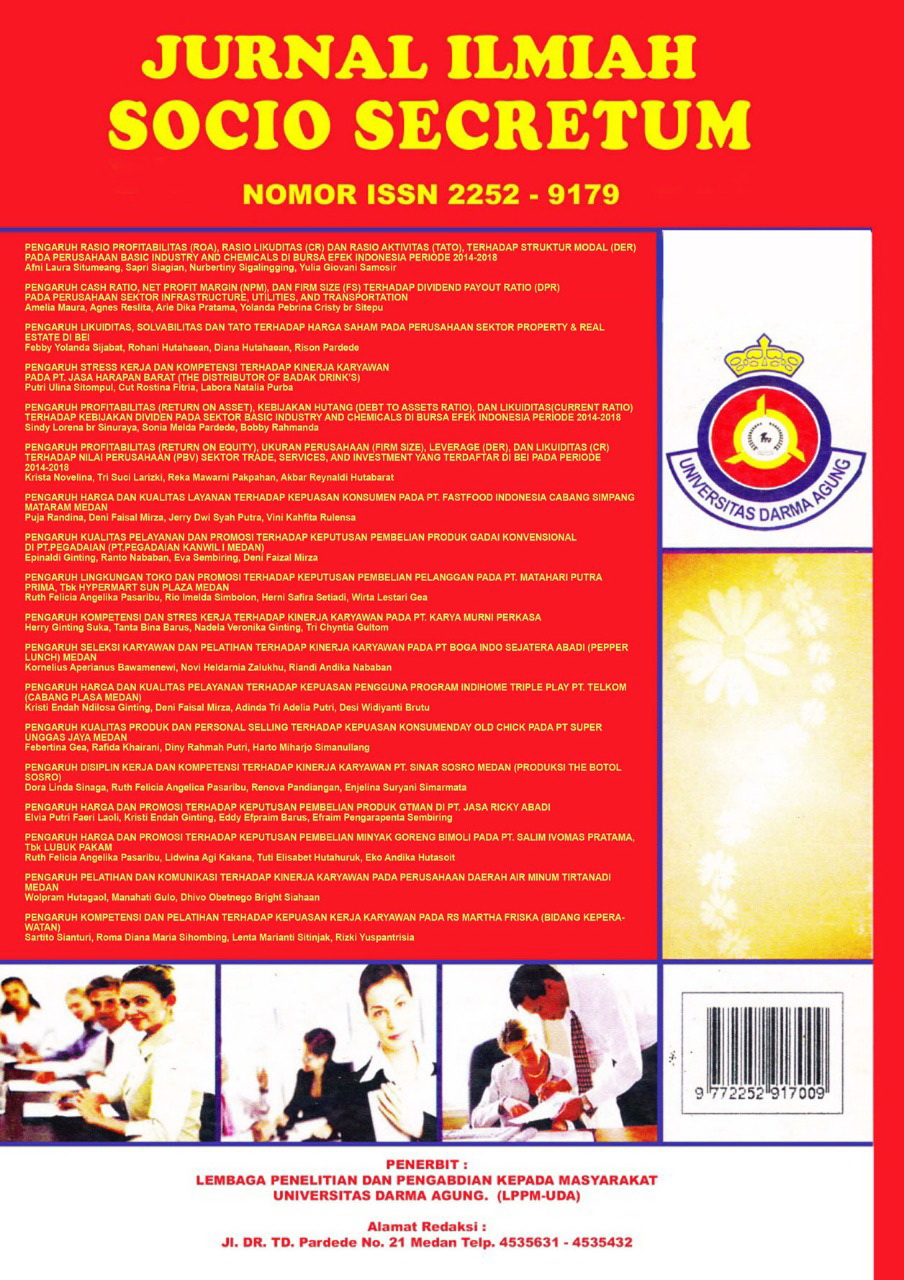 How to Cite
BR SINURAYA, Sindy Lorena; PARDEDE, Sonia Melda; RAHMANDA, Bobby. PENGARUH PROFITABILITAS (RETURN ON ASSET), KEBIJAKAN HUTANG (DEBT TO ASSETS RATIO), DAN LIKUIDITAS(CURRENT RATIO) TERHADAP KEBIJAKAN DIVIDEN PADA SEKTOR BASIC INDUSTRY AND CHEMICALS DI BURSA EFEK INDONESIA PERIODE 2014-2018.
JURNAL ILMIAH SOCIO SECRETUM
, [S.l.], v. 9, n. 1, p. 53-62, june 2019. ISSN 2720-9830. Available at: <
https://jurnal.darmaagung.ac.id/index.php/socio/article/view/208
>. Date accessed: 18 sep. 2021.