THE STUDENTS' MASTERY OF WRITING A DESCRIPTIVE TEXT THROUGH ROUNDTABLE TECHNIQUE TEXT OF EIGHTH GRADE STUDENTS AT SMP SWASTA GKPI PAMEN
Jontra Jusat Pangaribuan

Universitas Darma Agung

Carolina Pakpahan
Abstract
This study is to find out whether roundtable technique significantly affects for the students' mastery of writing a descriptive text of eighth grade students  at SMP Swasta GKPI Pamen. Roundtable Technique is learning technique where the students take turn in their team by generating their responses, solving problems, or making a contribution to a project. It was conducted by using experimental quantitative research. The population of this study is the eighth grade students of junior high school SMP Swasta GKPI Pamen. The writer takes 40 students as the sample and they are devided into two groups by using random sampling. The first group was VIII-1 as Experimental class which is taught by implementing Roundtable technique. While the second group is VIII-2 as control class which is taught by using conventional method. Oral test is used  as the instrument of collecting the data. This test consists of two types, namely pre-test and post-test. The data were analyzed by using t-test formula. The calculation shows t-observed that is 2.307  is higher than t-table that is 1.686 at the level significance  (p: 0.05) with the degree of freedom (df) 38. It means that Ha is accepted, therefore it is concluded that Roundtable technique significantly affect on students'mastery of  writing  a descriptive text of eleventh grade students at  SMP Swasta GKPI Pamen. It is suggested for the students of English department as source of valuable knowledge and information when conducting a research related to the study. It is also suggested that teachers of English subject should implement Roundtable technique as one of alternative in teaching Writing to increase students' writing ability.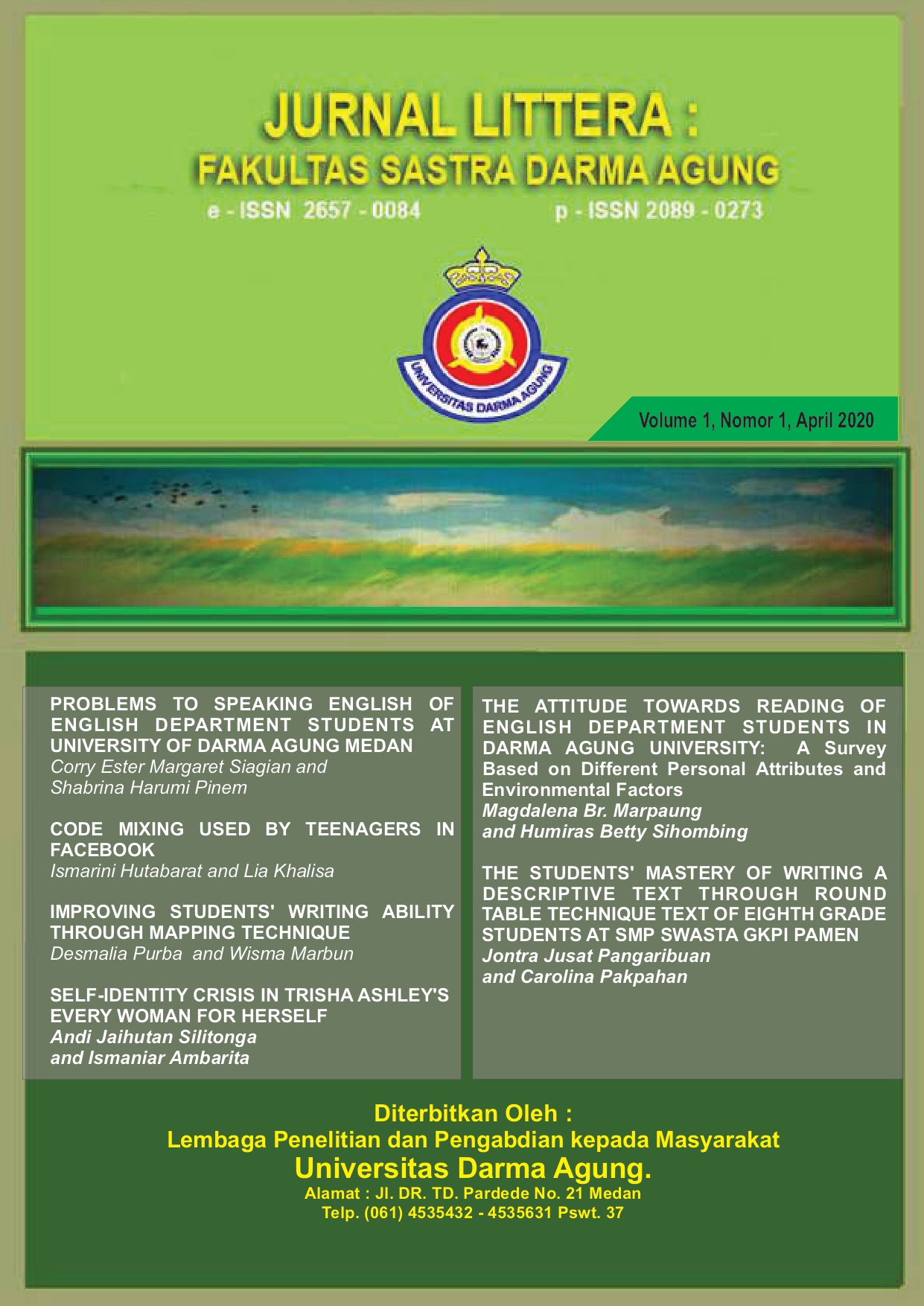 How to Cite
PANGARIBUAN, Jontra Jusat; PAKPAHAN, Carolina. THE STUDENTS' MASTERY OF WRITING A DESCRIPTIVE TEXT THROUGH ROUNDTABLE TECHNIQUE TEXT OF EIGHTH GRADE STUDENTS AT SMP SWASTA GKPI PAMEN.
JURNAL LITTERA: FAKULTAS SASTRA DARMA AGUNG
, [S.l.], v. 1, n. 1, p. 59 - 64, june 2020. ISSN 2089-0273. Available at: <
https://jurnal.darmaagung.ac.id/index.php/littera/article/view/556
>. Date accessed: 15 june 2021.